Statement/Bio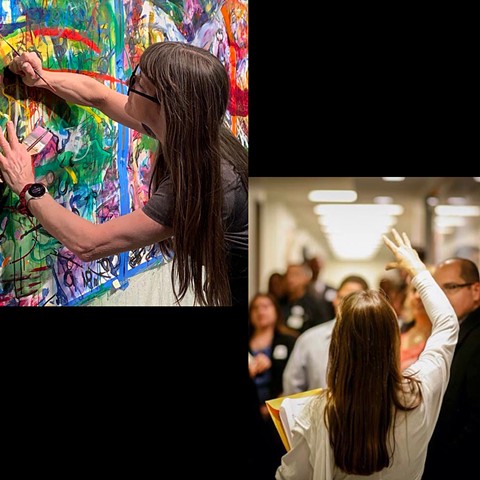 STATEMENT
A primal gift of Nature is the presentation of its continuous cycles of uncanny transformations, unsettling beauty, and unspoken power. My work explores mysterious moments in this uncontainable arena of life.
These artworks begin from singular glimpses of nature's inexhaustible energy. I expand these glimpses with a series of painted improvisations using color and form. Layered hues and shifting images dissolve the thin veil of expectations and time. There is a hauntingly familiar recognition of unseen realities. Images of striking beauty are laced with aching replies to devastation, some leaning into chaotic rage and others into regenerative harmonies.
BIO
Rebecca Hamm received her B.A. from California Polytechnic University, Pomona and her M.F.A. from the Claremont Graduate University.
Hamm teaches university art courses and is an independent curator for community-based museums. She is a featured speaker nationally and her writings have been published internationally. Hamm is currently Director of Arts for Tierra del Sol Foundation where she advocates for artists with disabilities to advance their own professional careers in the arts.
Solo and selected exhibitions include the Carnegie Art Museum in Oxnard; Los Angeles County Museum of Art Sales and Rental Gallery; The Claremont Museum of Art; The Ontario Museum of Art and History; The Huntington Beach Art Center; The University of Houston, Texas; Los Angeles City College; Chaffey Community Museum of Art, Ontario, CA; Millard Sheets Art Center at Fairplex, Pomona, CA; Claremont Graduate University; Manhattan Beach Creative Arts Center; Manhattan Beach, CA; Orange County Center for Contemporary Art, Santa Ana, CA, and University of La Verne, La Verne, CA. Hamm's work is part of private and corporate collections including Morgan Stanley, New York.